Slip and the Spinouts are an established Vintage American music band on the South Florida circuit. They are South Florida's only Rockabilly/Roots band playing the entire state, East Coast and Las Vegas. Their blend of Rockabilly, Rock n Roll, Western Swing, Surf, old country, Swinging Blues and Roots music appeals to people of all ages and lifestyles.
The Spinouts are exceptional performers who stand out among the other bands. Playing various venues from large festivals and events, to local bars, clubs and restaurants; even the occasional wedding. The Spinouts have played in Las Vegas for the Viva Las Vegas Rockabilly Weekender, as well as Atlanta, Va., Pa. and N.C. Being versatile musicians Slip and the Spinouts can play for the dinner crowd at local historic Restaurant the Mai-Kai, or played a revved up ear splitting show for the Hot Rod and Biker crowd.
Slip and the Spinouts play original Rockabilly/Country/Swing songs that are available on their C.D's, plus for the bar circuit they have 3.5 hours of music and 100+ song revolving set list featuring their Rockabilly originals plus their own takes on classic songs by Elvis Presley, Johnny Cash, Buck Owens, Carl Perkins, Dick Dale, the Ventures, Hank Williams Sr. just to name a few. If you like 50's style RnR Blues the band also covers a lot of Nick Curran songs plus some JD McPherson and Jimmy Sutton. They also cover modern Rockabilly songs by Stray Cats, Reverend Horton Heat, Hank 3, Hillbilly Hellcats and more and recently have given 80's and 90's pop rock a Rockabilly feel like Cheap Tricks 'I Want You to Want Me" and Fastball's "The Way" and the Black Keyes "Howling for You". They also play a haunting version of "After Dark" by Tito and the Tarantula from the Same Hayek movie "Dusk to Dawn". Since the band plays several weddings a year, one time on a River Boat, they are also capable of playing quite a few slow songs like Elvis's "One Night" and Sinatra's "Fly Me to the Moon". But to see Slip and the Spinouts in their full glory is to see them play their original Rockabilly and Hillbilly Swing tunes in a large venue.
Slip and the Spinouts have been featured in the West Palm Beach Post, New Times magazine, WeMerge talent magazine, and had their CD reviewed in Ol'Skool Rodz Hot Rod Magazine. They have been featured in the New Times Column, Night Rider by Marya Summers and an exclusive, half page feature in the Sun Sentinel Weekend edition. Recently they have appeared on the cover and were featured in local Jazz/Blues magazine Hot House. Slip and the Spinouts are played on WKPX's 88.5 FM Sunday Blues with Dar Radio Show, WMNF in Tampa and the Internet radio show Country Fried Hot Rod. The Spinouts also appeared on the new Showcasing South Florida Blues C.D.Vol.2. Rockabilly Hall of Fame, with a live review by Barry Klein.
They have appeared at the City-Link Newspaper Music Festival 4 years in a row, Daytona Beach Bike Week, The Horse Backstreet Choppers Underground Chopper Show at The Last Resort in Daytona Beach, Rockabilly Roundup in Miami, Jazz on the Avenue in Delray Beach, Atomic Rockabilly Rumble, Downtowner Saloon Street Dance Blues Party in Fort Lauderdale, and Downtown Live in the City of Fort Lauderdale. Fort Lauderdale Blues Festival 2003
They also have for 2005, 2007, 2009,2010, 2013 and 2015 appeared at the WMNF Rockabilly Ruckus in Tampa. They have played at the Hukilau 2006 and 2008 in Fort Lauderdale and are the first Rockabilly band to play the Mai Kai Polynesian Restaurant in Fort Lauderdale for Tiki Kiliki's Tiki Torch Night and still play happy hour once a month in the Molokai Bar. The Spinouts have also played the worlds most famous Rockabilly event "Viva Las Vega" twice.
In the short time they have existed they have opened for Hi-Fi and the Roadburners, Cigar Store Indians, Little Charlie & the Nightcats, Dion, Big Sandy & the Fly-Rite Boys, Kim Lenz, Slim Jim Phantom, the Dempseys, Road Kings, Wanda Jackson, Deke Dickerson, Chop Tops and several others.
Slip & the Spinouts perform weekly at numerous clubs and bars through out South Florida and the South Eastern United States.
The Spinouts are:
Slip Mahoney - Guitar, Lead Vocals
Kristi Lynx, Paul Shewchuk - Upright Bass, Vocals
John Grillo- Drums, Vocals

For Booking and Info contact Spinouts Management at:
email - info@slipandthespinouts.com
Phone - 954-647-7741
Partial list of Events that Slip has performed at:
House of Blues - Boston, with Drop Kick Murphys 2015
Viva Las Vegas Rockabilly Weekender 2008
Viva Las Vegas Rockabilly Weekender 2011
Viva Las Vegas Rockabilly Weekender 2015
Harley Davisdon - Daytona, Fort Lauderdale
Hard Rock Cafe, Hollywood,Fla.
Gold Coast Casino, Las Vegas
Orleans Casino, Las Vegas
Jazz on the Avenue in Delray Beach
WMNF Tampa Rockabilly Ruckus2005
WMNF Tampa Rockabilly Ruckus2007
WMNF Tampa Rockabilly Ruckus2009
WMNF Tampa Rockabilly Ruckus2010
WMNF Tampa Rockabilly Ruckus2013
WMNF Tampa Rockabilly Ruckus2015
Downtown Saloons Riverwalk Music Fest. 2004
Fort Lauderdale Blues Festival 2004
City of Fort Lauderdale Street Festival
City of Hollywood
City of Boynton Beach
City of West Palm Beach Clematis by Night
City of Pompano Beach Music Under the Stars
City of Daytona Beach at the Bandshell on the Beach
Mardi Gras for the City of Hollywood
Daytona Beach Bike Week
Biktoberfest Daytona Beach
Ocean Reef Resort, Harbor House Blues
Daytona Harley Davidson
Backstreet Choppers Magazine's Annual Smoke Out in North Carolina
Trader Vic's Tiki Torch Night, Atlanta , Ga
Mai Kai Restaurant , Fort Lauderdale
and many more.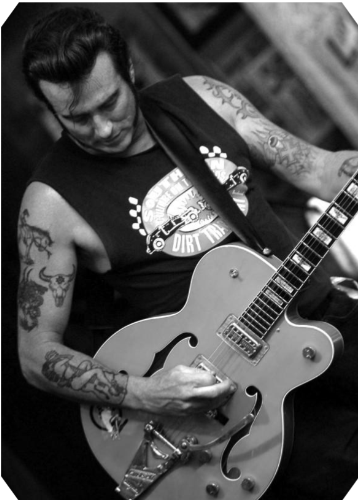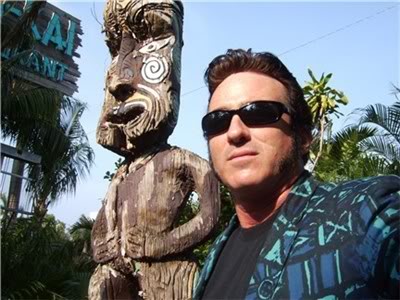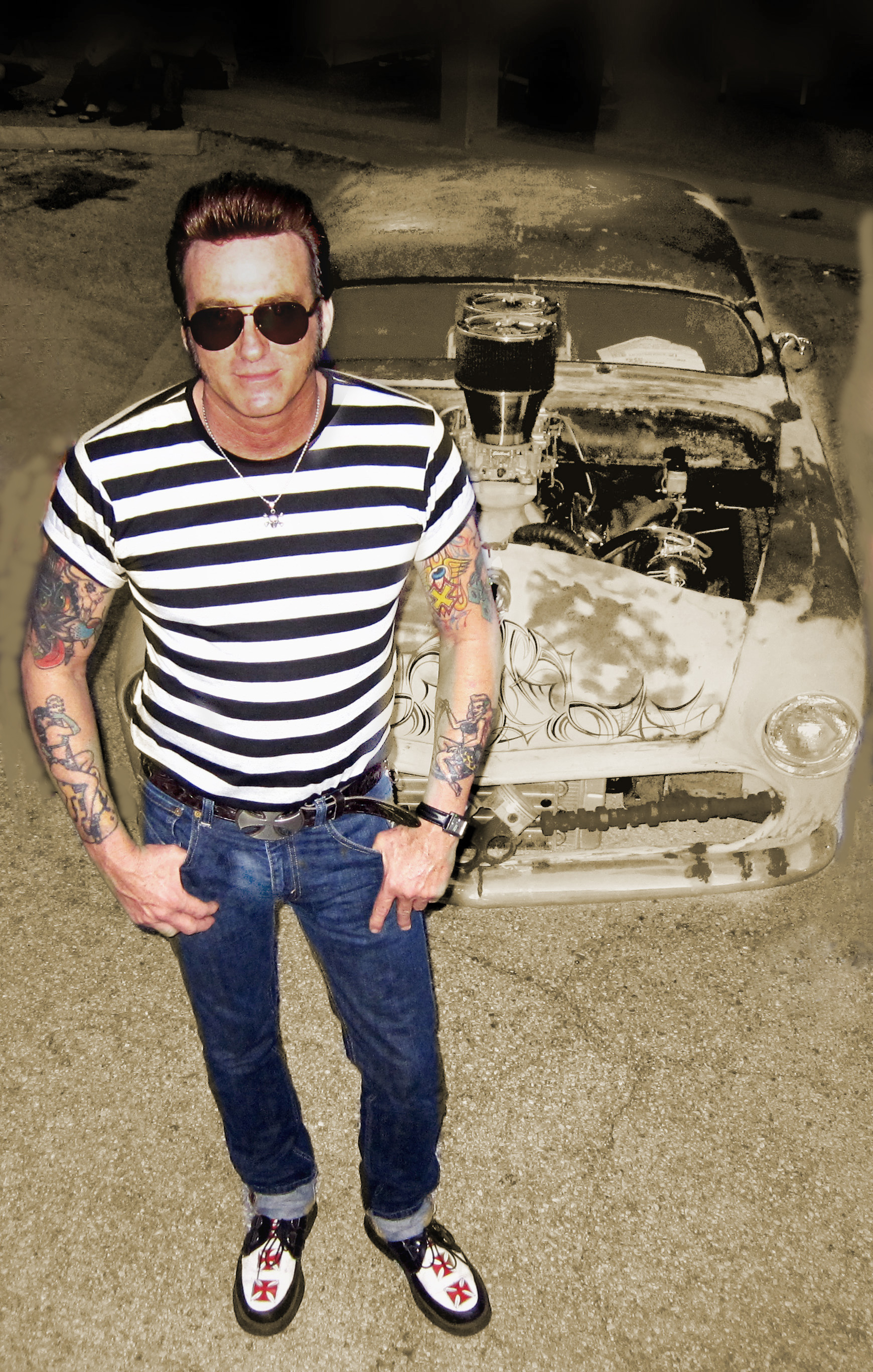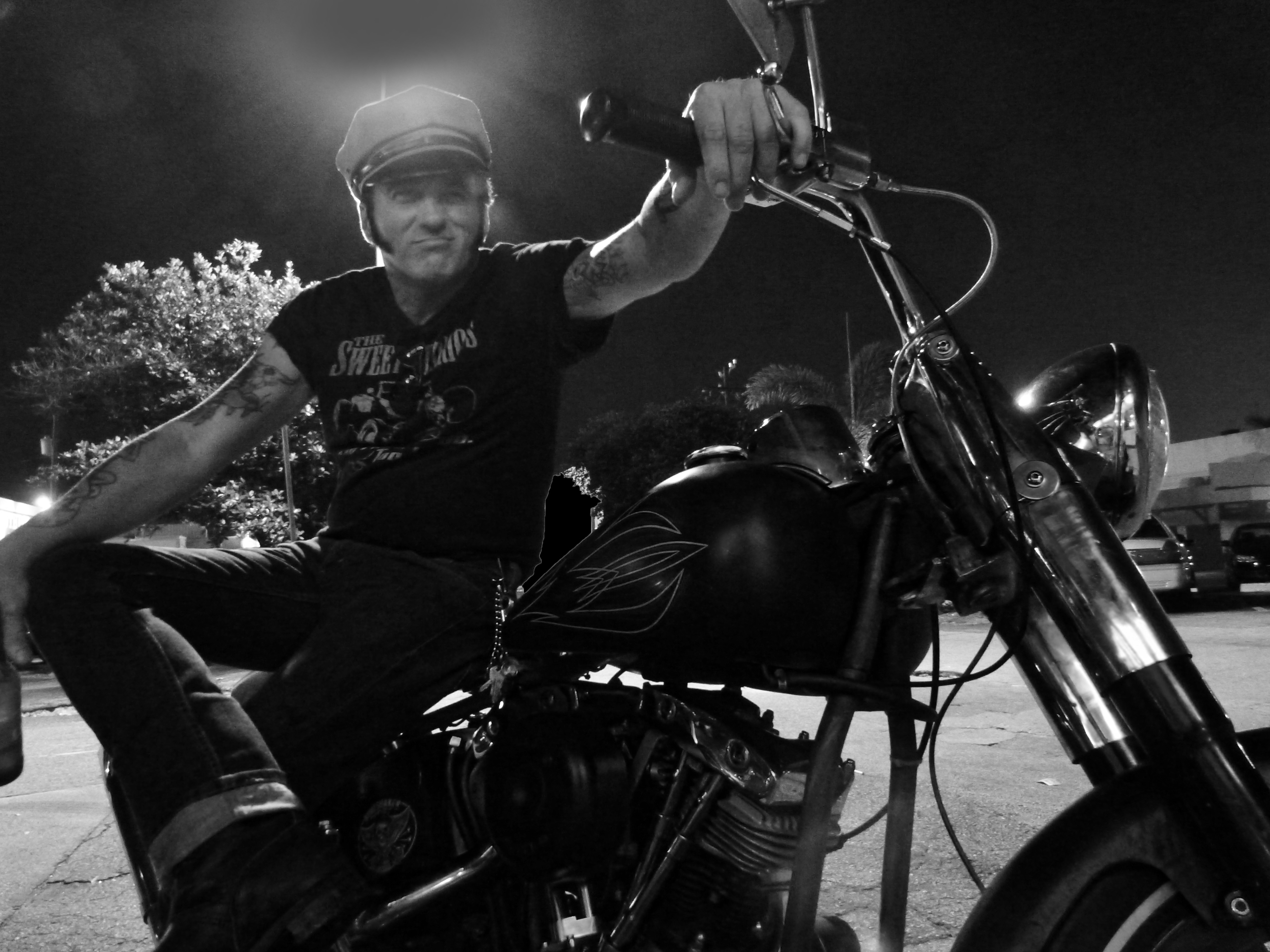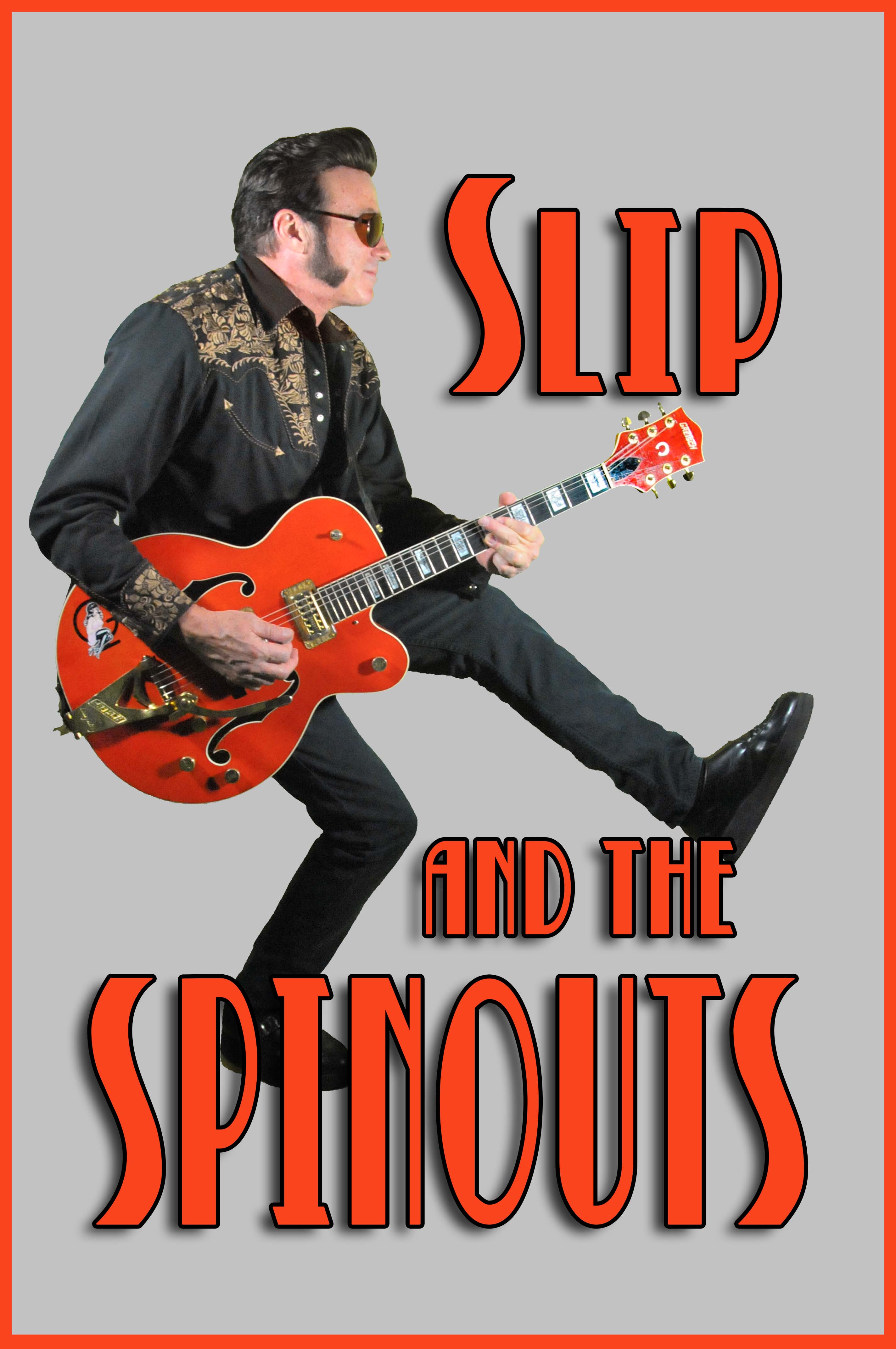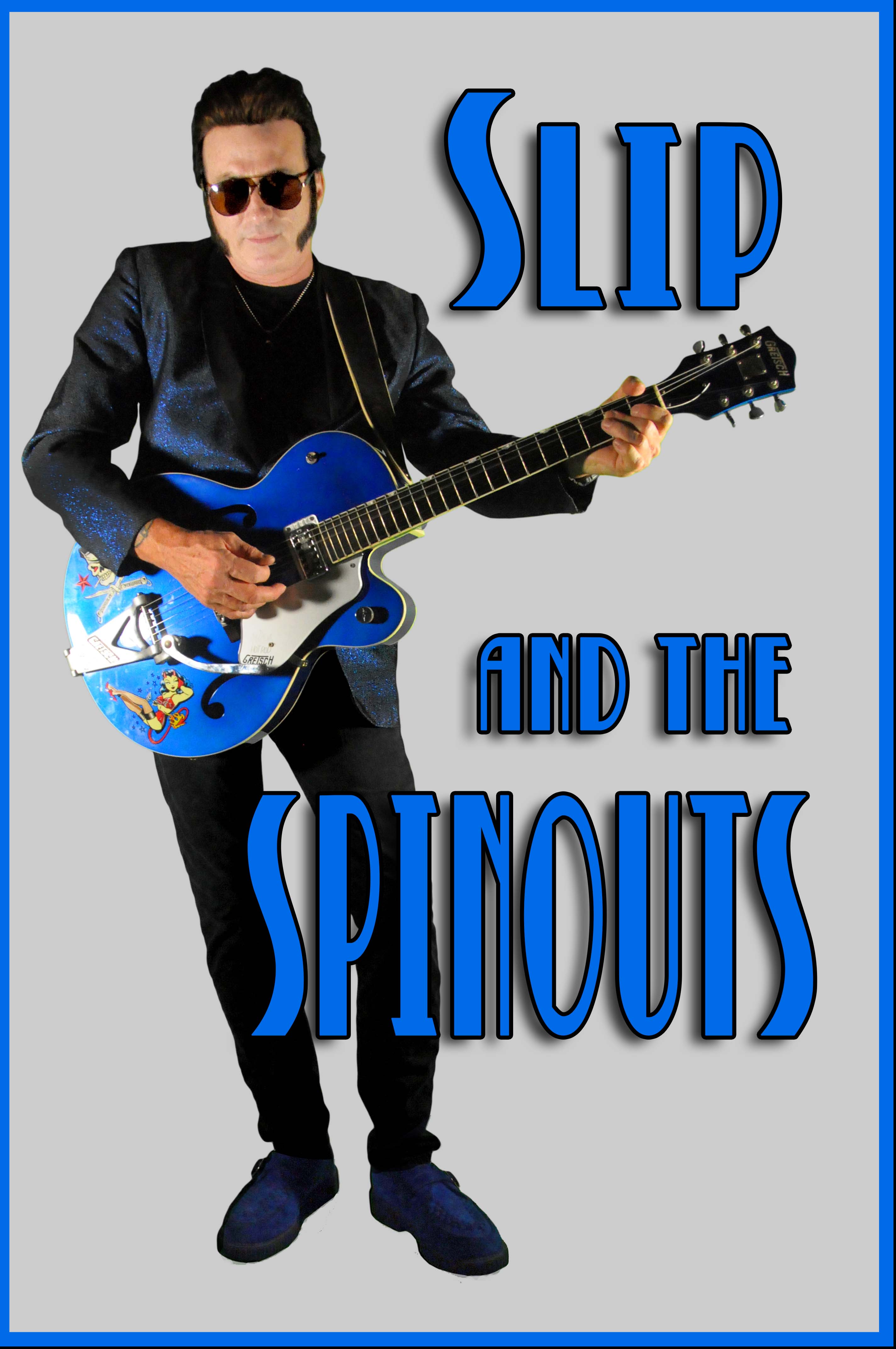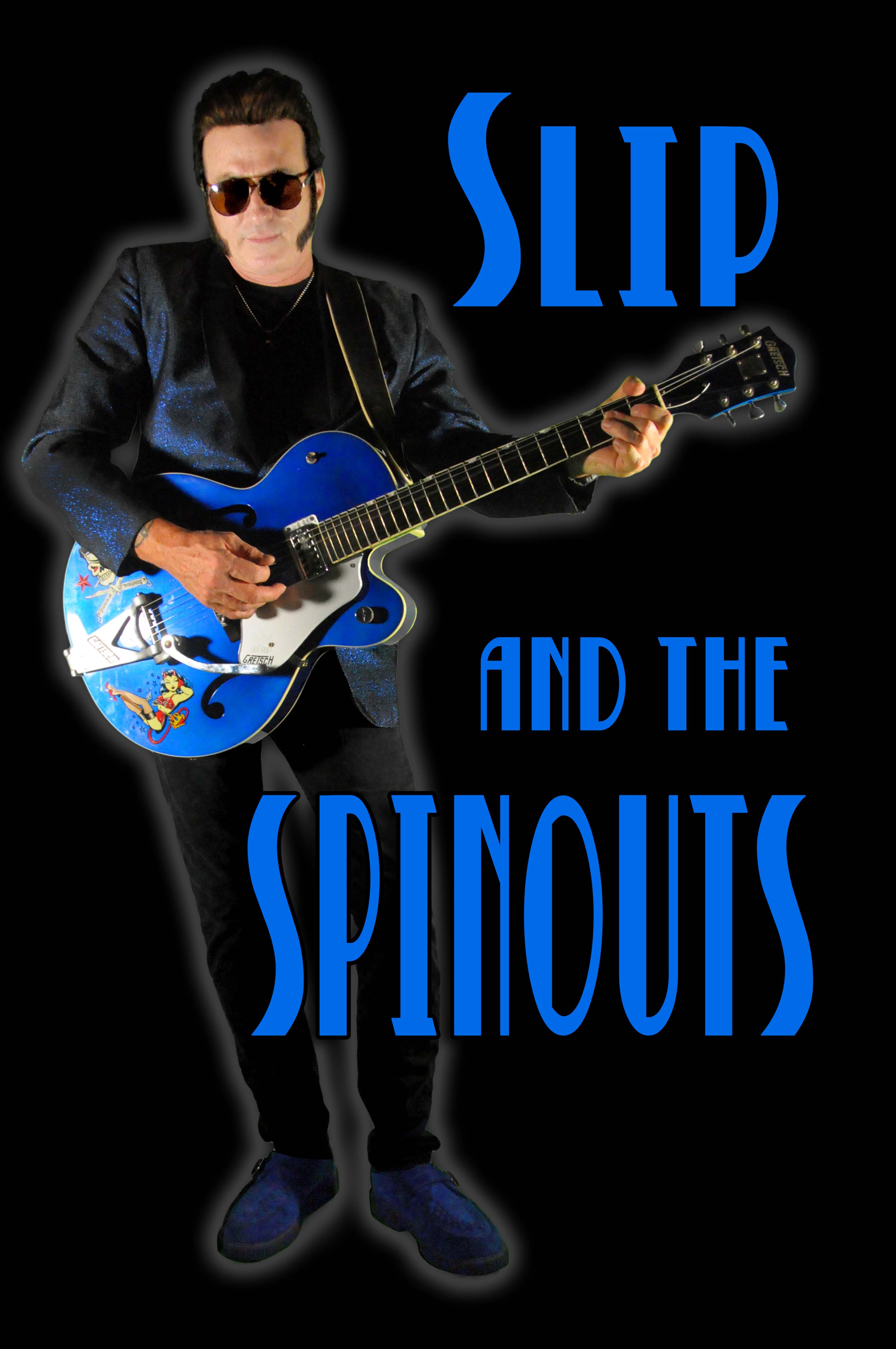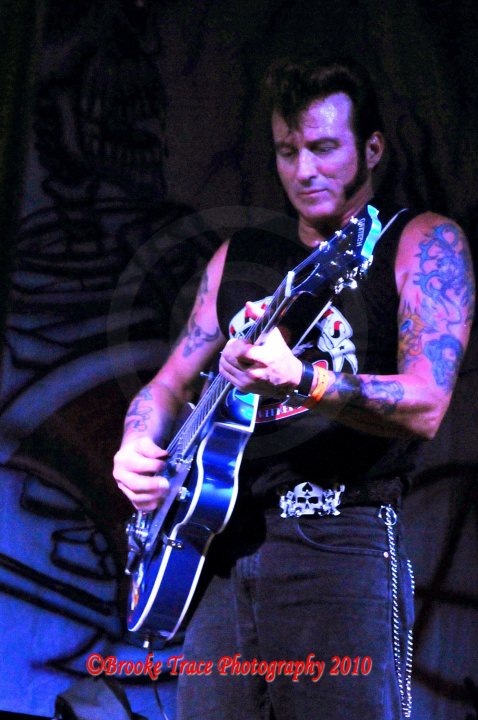 Press - Magazine and Newspaper Articles:
Broward/PalmBeach New Times
Slip and the Spinouts Is Spreading Rockabilly and Dressing as Dead Elvis at Mai Kai Tonight
By County Grind Fri., Oct. 31 2014
Categories: Q&A
By Michelle de Carion
Slip Mahoney has been playing rockabilly and American roots music for 15 years in South Florida, and he has no plans of stopping anytime soon. Although the Rockabilly music scene has struggled in popularity, veteran local band, Slip and the Spinouts with upright bassist Noah Hall and drummer Tony Tomei, isn't hurting for gigs. They are living the musician's dream of playing music full-time.
New clubs like the Vintage Tap in Delray Beach, as well as longstanding businesses like the 4:30 Boardroom Bar, continue to eagerly seek out Slip and the Spinouts for its incredible energy on stage and musical talent. Not only is the band's fan base growing in Florida, but it's also been picked up for shows around the country. This year, Slip and the Spinouts played a private event at the House of Blues in Boston with the Dropkick Murphy.
With an album coming out in January, we thought it was a good time to catch up with Slip Mahoney and ask him about the live music scene in Florida, what his plans are for the future, and why he just won't stop playing roots music. Slip's next performance will be at the Mai Kai on Halloween night. He'll be the dead Elvis on stage.
New Times: What is the state of the rockabilly music scene in Florida right now?
Slip Mahoney: When I first started, I would say that in the entire state of Florida it was a lot bigger, mostly in the Tampa area, a little bit in Orlando.
In South Florida there wasn't that much; it was basically just me, and that was 10 to 15 years ago. I knew in order for me to play consistently, I had to do cover songs that people would recognize, like Johnny Cash, Carl Perkins, and Elvis. But honestly, down in South Florida, rockabilly isn't that big. Most of my fans are everyday-type people who just love my music and have fun at my shows. So if you talk about the rockabilly scene in general, it's gone down. But for me personally and my band, it has not gone down.
We are still playing all the time; I'm still getting new fans. People say they like us a lot. I have swing dancers that always come out and dance -- I call them the swing kids. When you play for a group of people who just want to dance, that's good for the musicians because we play better and we perform better. My whole goal behind this band was to get people to have fun and dance to all the songs.
What is it like for an American roots band to play in South Florida where the culture is more mainstream, pop, and club-oriented?
It's a little bit more difficult, but a lot of new clubs have actually been calling me because they've seen us by walking by and liked us. I've been lucky because I've been doing this for 15 years. I play every weekend, and I play where mainstream bands play at, but we're different and no one else down here is doing what we are doing. That's why I try to incorporate music that people identify with, like the Stray Cats, and then I throw my original songs into the mix of it.
What is the state of the live music scene in South Florida right now?
I would say it's very good. I know a lot of bands in different genres, and believe it or not we are lucky to have a lot of paying gigs down here. I know a guy out in Colorado, Chuck Hughes from the Hillbilly Hellcats, who has a very big rockabilly band. He's been doing the same thing I've been doing, and he can't get any work out in Colorado. He told me, "You guys are lucky. We can't do anything like that out here. We do gigs, but it's only like once a month now." So we are very fortunate to have a great live music scene down here.
You recently played at the House of Blues in Boston. How did you get that gig?
Over the years, we always get these people that like us a lot, and they say, "We love you guys! Give me your card and we'll do this for you, or give you that money," and nothing ever comes through. Well this Boston gig was the one time that something actually came through.
We were playing at the Tropic Cay Hotel on Fort Lauderdale beach on a Sunday afternoon, and these guys from Vegas were walking by and they heard us and walked into the hotel. One guy came up to us and said, "Hey you guys are awesome! Tell the whole bar we are going to buy everyone a round of drinks. We are here from Vegas and celebrating." We played an extra half hour long that day; it was a huge crowd. We got done playing and the guy, Tommy White, the head of the Vegas Laborers Union for the past 10 years, said we want you to play at the House of Blues in Boston.
We worked out a deal, but I still thought it was a spoof. Two weeks later, I got a call from his secretary. I said, "Wow this is real!" We also found out the Dropkick Murphys were going to do an acoustic set before us.
It was a private event to raise money for construction workers out of work. The Mayor of Boston was there, the Boston Police bagpipes were there. We did an hour and a half set, it was a mixed crowd, and they all loved us. People danced to every song we played. We got a lot of compliments. It was amazing. It was so good that they want to fly us out to Hawaii next year. The only thing is how are we going to get an upright bass to Hawaii
You are producing a new album. What can we expect on it?
It has some of my best originals, but it also has songs on it that you'd think I wouldn't normally do. It's all roots music, but different styles. There is one song I wrote called "That's country" where I make fun of modern country music. I got that from reading an article about how to write a country song. So I wrote a country song with all the cliché words in it. But I also said some funny things in it too. It's on my website.
A couple of the songs on the CD have the banjo and the fiddle in it, which I don't normally do live but I did it in the studio. We are doing a couple cover songs that people will want to dance to live. It's all different styles, not just rockabilly.
"I'm Gone Down the Crossroads" is another new song I wrote a couple weeks ago. It's a country blues song. It has to do with the phrase "the devil made me do it" and all the bad things that happen in life. It came from some things that happened to me in my past. So it's about trying to avoid the devil and the things you try to get away from.
I'm going to try to get the CD done by January, but there are already some new songs you can download on my website.
Back in the '80s, you say you stopped playing rockabilly and American roots music because no one seemed interested. Why didn't you just give up at that point? Why did you pick it up again?
After I stopped playing in the rock 'n' roll band in the mid-'80s, I took a break, and then I started doing the hard rock Gothic scene, influenced by the Cult. I even grew out my hair real long. I did that for a few years, but then I stopped because I was tired of dealing with difficult band members.
Then one night, I went to the Poorhouse downtown and I saw the Retro Rockets. Back in 1998, they were doing rock 'n' roll songs, and even the Stray Cats. People were having a good time. And I thought, "Hey I can do that! I used to do that all the time." I was excited to see that people still like this music.
So two weeks later, I joined the Retro Rockets, and then two months later they kicked me out for offering too many suggestions. (Laughs) That's when I realized I should be my own band leader, and that's when I started Slip and the Spinouts.
What would you say to a beginning band in South Florida who is struggling?
I have noticed that a lot of young bands tend to go to the originals right away. Even though many of them may turn out to be talented songwriters, they tend to put down cover bands. Even though I used to do that when I was younger, later in life, I realized when you learn how to play cover songs from other artists, no matter what genre, it teaches you how to play better and it helps your songwriting also. You learn to play better, how to play different styles... it makes you grow.
Even to this day, after playing guitar my whole life since I was 10, I'm still growing just by learning new stuff and listening to different styles and trying something new. So don't be afraid to learn new things just because "it's not cool."
What do you want people to gain when they listen to your music and come to your shows?
I want them to have fun. I want them to dance, and enjoy us a lot and come back and see us again. I always tell people that we sound better live. The CD doesn't give us justice. We feed off the energy of the crowds.
New Times Magazine Jan. 2010
Slip and the Spinouts
The Monterey Club, Fort Lauderdale
Saturday, January 16, 2010
The Review:
The new Fort Lauderdale bar the Monterey Club is rockabilly through and through. There are hot rods parked out front, a flaming sacred heart painted on the wall behind the stage, and tiki imagery throughout the room. And it all fosters the mood set by bands like local legends Slip and the Spinouts, who have been at it for more than 10 years, and who took the stage at the venue this past Saturday night.
The decor agrees with frontman Slip Mahoney's Elvis-style sideburns, dark-brown quiff, and sparkly blue Gretsch hollow-body guitar. (What's more, the axe is decorated with two pin-up vixen mud flap girls posing in a beckoning, reclined position around the fretboard.) Steve Satch's tall black stand-up bass was also as visually appropriate as the zebra and leopard printed rugs that matched Slip's guitar pedal board.
"This song is a story about driving in my pick-up truck," Slip said by way of introduction, stroking the strings and launching into "Exit 39," a track about Jack Daniel's-influenced, open-road driving gone wrong. Drummer George Ed has only been playing with Slip for two months, but trucked along, keeping a steady beat. Meanwhile et stoic-faced Satch, showing his true-blue rockabilly colors in a Goddamned Gallows T-shirt, bent his big bass over to pluck and spank its strings like it had been a very, very bad girl.
Speaking of women behaving badly, the following song was an original too. A slow and easy drum beat dropped, quickly followed by Slip's lurching guitar and Satch's thumping bass. Thus began the groovy title track of the band's most recent album, Crazy Lil' Baby. The refrain of "I got a crazy little baby/But she's much too crazy for me", eventually gave way to the song's conclusion, "But she says she ain't crazy/'Cause the only crazy one is me."
And thus it was that the favorite rockabilly themes of ray women, the open road, and hard liquor had all already appeared in Slip's originals. Others, though, went for more unorthodox subject matter. For one, there was "Devil's Swamp," which has yet to be released on a Spinouts album. Slip says he came up with the idea for this song while reading someone's college paper about the 1864 Civil War battle at Yeehaw Junction. It described, he says, how Confederates defeated the Union by seeming to walk on water with the help of Seminole guides who knew the location of a bridge in the swamp.
But there were covers aplenty, too, reaching back to standards of the rock and roll, country, and of course rockabilly that inform the originals. These included renditions of the Chantays' 1963 classic instrumental surf rock song "Pipeline," Billy Emerson's "Red Hot," and Johnny's Cash's "Ring of Fire."
Critic's Notebook
Random Detail: You can catch Slip and the Spinouts January 30 at the Monterey Club's Night of the Tiki event.

-- Courtney Hambright

WeMERGE MAGAZINE JAN 2009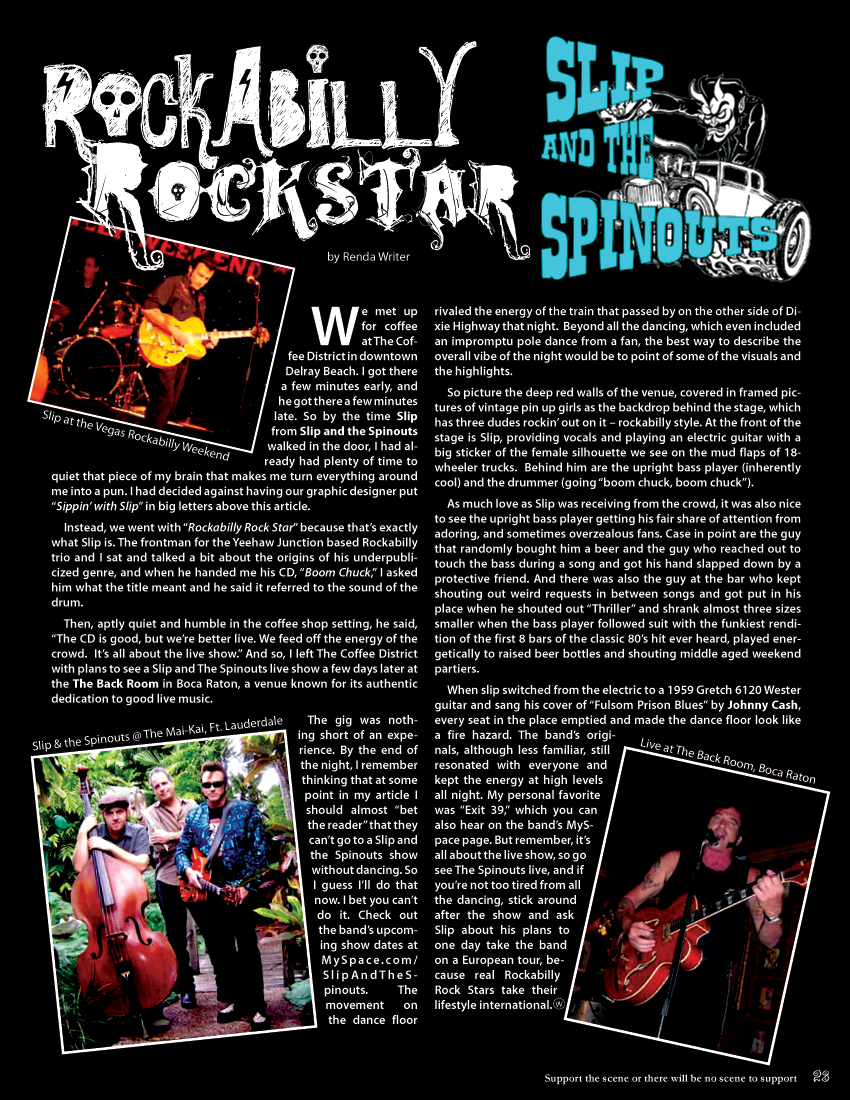 New Times Magazine, Miami and Broward editions
Slip and the Spinouts Play Rockabilly Across South Florida,"South Florida's King of Rockabilly"
By Jose Davila
Published on February 03, 2009 at 2:54pm

While some local artists lament the lack of live-music venues, Broward's rockabilly phenomenon, Slip Mahoney, feels this is the right kind of town for him. "In cities like Austin, there are so many bands that artists end up playing for free," the 50-year-old Mahoney says in a sharp Southern drawl. "At least down here, there are enough places where a person like me can make a living playing live."
Still, earning a living playing live venues is a tough proposition in sunny, dance-club-oriented South Florida. Even so, Slip Mahoney — the Miami-born lead singer and guitarist for Slip and the Spinouts — has worked his way through the past seven years to become a regional staple at bars and classic car and bike shows. On any given weekend, the band can be found playing hot spots like Boston's on the Beach in Delray Beach or that perennial retro palace, the famous Mai Kai restaurant in Fort Lauderdale.
And the band has found time to release some music as well. Its independently released new album, Crazy Lil Baby, combines cool rockabilly classics like Vince Taylor's "Brand New Cadillac" (also famously covered by the Clash) and an old-style country-flavored version of Elvis' "One Night With You." The Spinouts even boast a large following outside of South Florida on the retro circuit, garnering reviews in magazines like Ol' Skool Hot Rot and performing at events like the notorious Daytona Beach Bike Week and the famed Viva Las Vegas Rockabilly Weekend.
Slip's journey into rockabilly began in the early 1980s, when he bought a British import copy of the Stray Cats' eponymous debut. His genuine fascination with the Cats' brash style led him to acquire a rare and precious Gretsch Chet Atkins 6120 model guitar that was once previously owned by Stray Cats' leading man, Brian Setzer. After trying his hand in various local groups (like the Preachers) throughout the rest of the decade, Mahoney finally decided to focus on his passion for old-time blues, old country, and 1960s surf classics. His first gig as a full-fledged rockabilly singer took place at the well-known Lauderdale blues bar Rosey Baby. Just like his idol Elvis, he sang a hip-shaking rendition of "That's All Right Mama." "I feel like it's fun, happy music," he says. "It can also definitely be a lifestyle."
That rockabilly way of life is firmly apparent in Mahoney's daily living. Beyond his carefully maintained 1950s pompadour and fashion sense, he collects and repairs vintage Harley-Davidson motorcycles. His signature ride features a classic '66 frame with a customized 1980s engine. "People call me Elvis all the time," he says. "It gets old."
And although the old-school rocker counts on a sizable loyal following, he would like to reach out to the younger crowd. "I think some young people down here don't realize that they can go out and enjoy live bands," Mahoney says. "For the younger kids, I play the fast stuff. We have over 70 songs in our repertoire, so there's always something for everyone." Still, while he's the de facto rockabilly king of the South Florida bar circuit, Mahoney has his eyes set on conquering popular retro markets in California and North Carolina. And his greatest musical ambition is to take the Spinouts overseas: "I'm trying to go to Europe. Especially England — they have a big rockabilly scene over there."
In the meantime, Mahoney plans to keep expanding his local following, doing gigs anywhere his guitar chops are required, even playing in places farther south than his usual turf, like the Miami Beach location of Automatic Slims. "The owner of Slims is really into us," he says. "Last time we played, it was really packed and the crowd was especially good."
And though the Spinouts specialize in playing classics, Mahoney spices his live shows with original numbers, like the propulsive "Hillbilly Boogie" and the alluring "Alone and Blue." To the band's credit, the new songs blend in perfectly with the good old standards. "I don't think our audience can really tell the difference between the old and our original songs," says Spinouts bassist Noah Hall.
And so it goes, as every weekend Slip and the Spinouts continue to sharpen their distinctive mix of Dick Dale surf rock, Elvis Presley rockabilly, and Johnny Cash-style old country. Their local fans — easily spotted by their classic custom rides and high pompadours — keep the band in high demand. And as long there are good, old-fashioned dive bars where folks enjoy hard liquor, Slip and his Spinouts are sure to provide the definitive, cool, American soundtrack.
Details:
Slip and the Spinouts, 9 p.m. Friday, February 6, at Flossie's Bar and Grill, 3985 Ravenswood Rd., Fort Lauderdale. Free. Age 21 and up. Call 954-583-9656, or visit flossiesbar.com. Also, 10 p.m. Saturday, February 7, at Bougainvillea's Old Florida Tavern, 7221 SW 58th Ave., South Miami. Free. Age 21 and up. Call 305-669-8577, or visit bougiesbar.com.
PALM BEACH POST
Rockabilly Roots Fuel Slip and the Spinouts
By Bill Meredith
Special to the Palm Beach Post
Friday, April 7th 2006
Unlike the wildly impossible to ignore rock genre, rockabilly has long been the illegitimate child of blues and country music. For 50 years, the now middle aged sub genre has occasionally surfaced in the post Elvis era- like in the early 80's when a trio called the Stray Cats helped usher in the fledgling music video craze on MTV.
For young Miami native Slip Mahoney, the effects ran deep. Already an old soul musically through Elvis's influence, he soaked up every nuance of Stay Cats Guitarist Brain Setzer. As Setzer formed his current horn-heavy big band, Mahoney crafted a stripped down South Florida rockabilly trio, Slip and the Spinouts, seven years ago.
The singing guitarists teamed up with drummer Boxcar Mike and bassists A.J. Kelly.
All sing backup; the drum set is a compact three pieces, and the bassist always plays an acoustic upright instrument. Mahoney shows his influences by switching between a Gretsch hollow-bodied guitar and solid-body Fender telecaster, both twang approved.
"I always like Cliff Gallup from gene Vincent's band; Paul Burleson; and Brian Setzer."
Mahoney says. "And Jim Heath from Reverend Horton Heat, too. All the great guitar players. Vocally, I try to sing like Elvis. But there is only one Elvis."
With his slicked back hair and long sideburns, Mahoney can visually challenge that notion from a distance. Performing live, he blends the early Elvis hits That All Right Mama and Blue Moon of Kentucky into a medley. Mahoney's energetic originals, like Ding Dong Tennessee and True Blue Redhead, fit perfectly between such venerable material and more recent tunes like Jukebox Mama and I Want to Love Somebody.
More of Slip 's tunes will be released soon, as he and the Spinouts are recording a follow-up to their self-titled debut CD. Expect more of his swinging blend of American roots music, as he tends to wear his influences on his sleeve-whether or not rolled up and attached to a bowling shirt.
CITY LINK BEST OF 2002
by Jake Cline


Slip and the Spinouts
members: Slip (vocals, guitar), Gary Rimmington, (bass), Mike "Boxcar" Bocsusis (drums)

Lots of rockabilly musicians look the part — greased-back hair, sleeve tattoos, black wardrobe — but few can actually play the part as well as singer-guitarist Mahoney. Without succumbing to the level of a corny nostalgia act, Slip and the Spinouts ably channel the spirit of classic rockabilly and jump-blues through their retro-minded originals and covers of tunes by the likes of Ronnie Dawson and Little Walter. Mahoney and Bocsusis are the band's only steady members, as it switches among bassists Rimmington, Schuchek and Naples depending on their availability. Bocsusis is better-known to local

Punk-rock fans as the drummer of The Holy Terrors, and Mahoney jokes that he still has a punk rocker's aversion to punctuality. "If he keeps showing up at the last minute, I'm gonna change his name to Lil Red Caboose," says Mahoney, who adds that Stan Waldman, owner of the Hollywood club Musicians Exchange at One Night Stan's, gave Bocsusis the nickname "Boxcar" because he once showed up to a gig with his drum kit in boxes. Look for the group at venues such as Rosey Baby in Lauderhill and Club M in Hollywood, and listen for their original songs "The Girl She's Crazy," "Ding Dong Tennessee" and "Date With My Baby Tonight" on WKPX (88.5-FM)'s Sunday Blues. Find the band online at www.slipandthespinouts.com
CITY LINK Best of 2001
Rock list
by Jake Cline and Larry Getlen

Slip and the Spinouts
members: Slip Mahoney (vocals, guitar), A.J. Kelly (upright bass), George Anderson (drums).
comments: Don't insult Slip and the Spinouts by asking for "Mustang Sally." "This is no blues-wannabe, white-boy band," Mahoney avers. "The Spinouts perform old-time tunes with crazy rhythms and hot guitar licks." Mahoney is something of an old-timer himself, having been on the local scene since the early 1980s, performing with the dark alternative act The Realm, the rockabilly outfit The Roosters and swamp-blues rockers The Preachers, the latter featuring future Maverick Nick Kane. Today, Slip and the Spinouts appear regularly at Elwood's Dixie Bar-B-Q in Delray Beach and have opened for like-minded acts the Cigar Store Indians, The Roadkings and Hi-Fi and the Roadburners.
contact: 954/647-7741 or slipandthespinouts@yahoo.com.
Rockabilly Hall of Fame review 2001
SLIP AND THE SPINOUTS:
The first "real" rockabilly group I saw perform at a nightclub in Naples over five years ago was The Crestliners, whose pictures were featured in my last southwest Florida rockabilly article http://www.rockabillyhall.com/BarryKSWfla.html. Led by founder Todd Fadely of Fort Myers, Florida, The Crestliners have had some personnel changes over the years, but the latest was a real surprise: Todd has joined a Ft. Lauderdale group called Slip and the Spinouts, which features Slip Mahoney of Ft. Lauderdale, Florida on guitar and lead vocals, Boxcar Mike on drums and vocals, and Todd on upright bass and vocals. In addition to a large rockabilly inventory, Slip and the Spinouts also take advantage of Slip's versatile Gretsch guitar virtuosity and infuse some jump blues, roots, alt-country and swing into their act.
I recently saw Slip and the Spinouts perform at The Liquid CafÈ in Ft. Myers, Florida, and their music kept bringing people from the street into The Liquid CafÈ. Todd will still handle some vocals, and the group has just released a new CD, "Slip and the Spinouts". This thirteen-track disc is in a neat package, and the inside jacket says "All songs recorded in the garage using the most inferior instruments and equipment. All mistakes left in at no extra charge."
You can email the band at info@slipandthespinouts.com, or call (954) 647-7741.